Sensory gardens and trails consultancy
Our design service will help you create a beautiful new sensory garden or add sensory layers to an existing one. Whether you have a residential care garden, school landscape, park or visitor attraction, we will tailor the design to best suit your particular needs. The more you want to be involved in shaping the ideas, the better. We are experienced with working on a range of sensory gardens, landscapes, and trails in urban and rural locations and at all scales.
We offer the below packages however if you are after something that isn't listed we may still be able to help.
One hour advisory session
Are you unsure how to start your project and have more questions than answers? Or do you have something specific that you need an expert to advise on?
A knowledgeable member of our multidisciplinary team can arrange a convenient call to discuss your project with you. Simply gives us a brief outline of your project idea or the particular questions you have and book time with one of our team.
Example topics of discussion include: should it be a sensory garden or sensory trail? How do we know what to include in our community garden? How do we prioritise our ideas?
Fees
A one hour session includes some preparation questions and a one hour phone or online chat and costs £150.
Enhancing an existing garden
Do you have an established garden or landscape that doesn't feel as sensory or accessible as it could be? It probably has lots of interesting plants and features already, but their sensory qualities are not identified to everyone, or the garden layout doesn't make it easy to access and experience them. We will explore how to best expand the existing sensory opportunity of the garden, perhaps for nature-based workshops, educational opportunities and sensory sessions, and identify and prioritise small-scale improvements that can make a big difference to the accessibility and enjoyment of the garden.

To make the most of an existing place, we can advise you on what to keep and what to change to improve the sensory experience and ease of accessibility. We don't have to visit your garden, if you can send photos and record a video tour we can offer a remote discussion on your garden's sensory potential.
Fee options
Online session. This includes an online call and relies on us being able to do a virtual tour of the garden. It is followed up with a written summary. £400.

Site visit. This includes a more detailed illustrated report. Fees depend on the garden size, starting at £1,500 plus travel costs.
Creating a new garden
If you have a blank canvas or a very run-down space, then a fresh start can be the best answer. To visualise the new ideas and help you make a plan for action, we can create an accessible sensory garden design. The design process will offer options to resolve accessibility challenges and create new sensory experiences. All our designs create plenty of planting opportunities for natured based sensory spaces that attract wildlife.
The garden concept design package shows all the features and their locations that are proposed for the garden in a cohesive way.
Community gardens, special schools and care homes use our concept designs to plan the sensory experience of their outdoor spaces and the designs are helpful when fundraising and engaging with stakeholders.
Please note that garden concept designs require accurate measurements of the site and usually a visit.
Fees
Prices vary depending on project size and start at £2,650 for a concept plan, plus travel costs.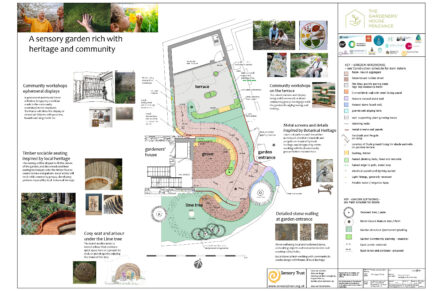 Bespoke plant selections for your garden
We select sensory-rich and wildlife-friendly plants. Our plant selections can become part of an established garden or be larger schemes in new gardens and landscapes.
Our plants are chosen for their sensory qualities, as a resource for activities and learning, and to provide seasonal interest and benefit to wildlife. Our horticulturally experienced team also select plants that are suited to the location whether it's shady, sunny, sheltered, windy, dry or damp.

Mix n match; you decide exactly what goes where
We provide bespoke new plant lists. This gives you a specially selected plant list for your project, and information on their sensory and wildlife qualities, and then you decide exactly what goes where. This is great for both highlights to existing gardens or a specific area in the garden that you are keen to improve.
Fees depend on the scale of planting areas and start at £750 (without a site visit) and include a bespoke plant selection booklet.

Curated for you; we take care of the full planting scheme
We design planting plans. This gives you a plan showing exactly what plant goes where, how many and what size. This is great for new projects or replanting schemes where you want to ask a contractor to give a complete price for the planting, or for a project, you are managing yourself but want to know exactly where to plant everything.
Fees depend on the scale of the planting area and start at £2,250 (plus travel costs where necessary) and include a site visit, a bespoke planting plan and a plant selection booklet.
Sensory trails
A sensory trail shares a series of experiences along a route, often carrying themes of journey and discovery. A trail can be permanent, with features like sculptures, tactile posts and plants installed to provide ongoing interest. Alternatively, a trail can be flexible, made from signage and materials that can be easily moved with the seasons and from place to place.
Our design service will help you identify the best options for your site. It typically involves the following steps:
A site review will assess the trail to identify best approach to interpretation and other enhancements like seating and access improvements.
We share proposed themes and designs with you, giving you the opportunity to comment and adjust details.
We deliver final design details which can include animations such as trail markers, signage and activities.
Guidance on sensory design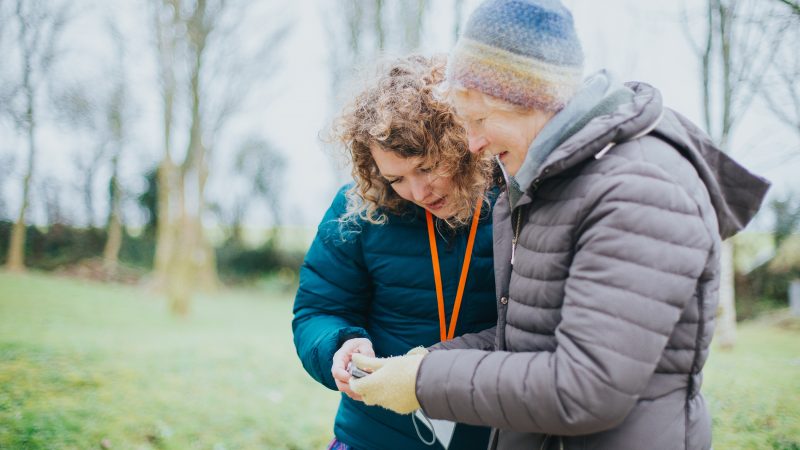 Sensory Trust's approach to inclusive design, what it means, why it matters and what it looks like in practice.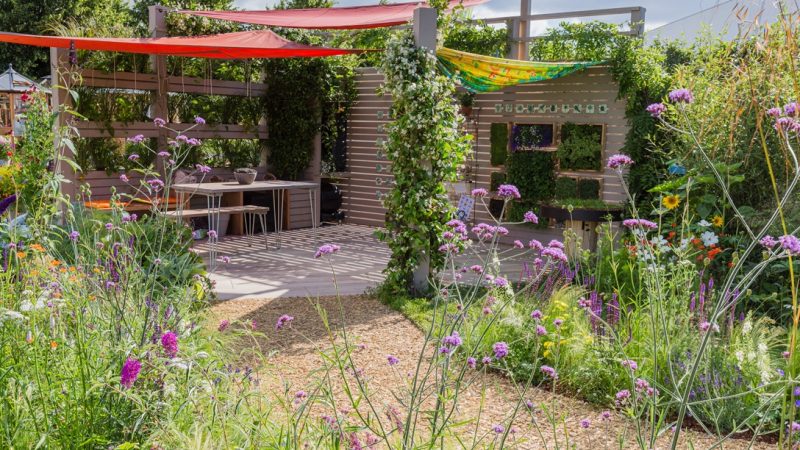 A guide to planning a sensory garden, from what you want the space to be, to how you will make it happen.
A practical guide to designing a sensory garden, from outline principles to design advice and ideas.