Creative Spaces
Creative Spaces is our flagship dementia project and is based on evidence that the health and wellbeing of people with dementia can be significantly improved by introducing contact with nature and the outdoors. Creative Spaces is bringing together lonely and isolated people who have mild to moderate dementia, providing positive opportunities to take part in nature-based activities and meet other people in similar situations.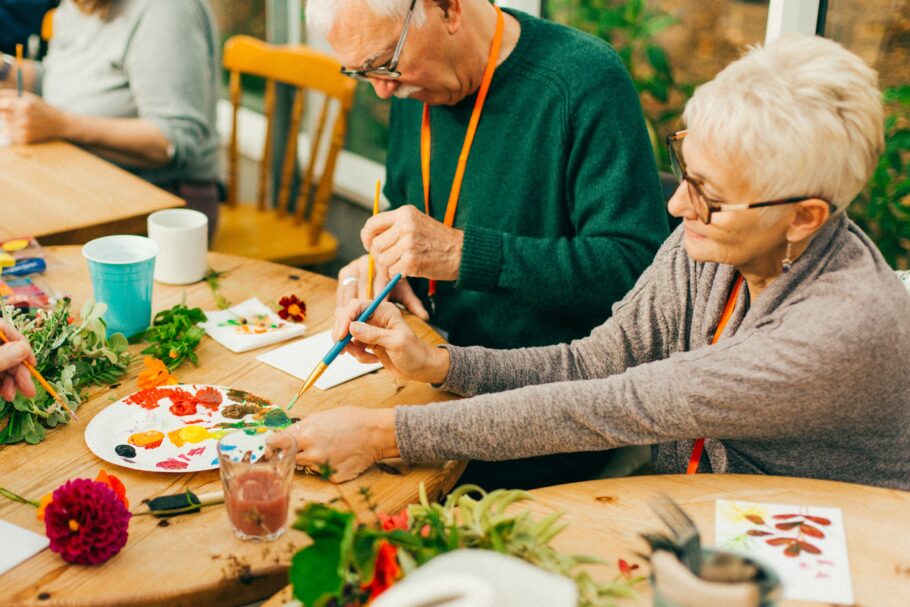 It all started with a walk
On a wild and windy day across Goss Moor in Cornwall we joined one beneficiary, Stephen for a walk. Aged 50 Stephen had been struggling with a new dementia diagnosis alongside a recent redundancy and the loss of his motorbike licence. Living in a small Cornish village Stephen was beginning to feel isolated and depressed, he was looking for something to get him out of his funk. Over the coming weeks more and more people responded to our call out for people to join our new dementia friendly walking group and soon we had a merry band of weekly walkers.
"Whilst we're walking I can chat about my problems but also just everyday stuff with people that understand what I'm going though, we've become like a little family"
It soon became clear that the walks were not only a tool to help increase or maintain physical well being they also provided a platform for people to chat and support each other. Initially, couples would walk together, tentatively negotiating their new environment but before long they would intermingle, and close friendships formed. Carers were able to swap tips and support each other, and people with dementia could chat without fear of prejudice. There is something very special about walking in the natural environment, we are able to open up more, talk about what we see and just relax. The health benefits are well documented also, exposure to natural light boosts melatonin levels and fresh air helps regulate our circadian rhythm. .

As the walking group began to swell in number, we soon realised that this model needed to be replicated throughout the county to reach even more isolated people. In 2019 the original group celebrated their 250th walk and we now boast a total of nine regular walking or outdoor activity groups for people with dementia and their carers throughout Cornwall. The groups are ever-evolving and more importantly have become self-governing, putting choice and ownership back into the lives of people with dementia. The group choose their walks and activities, approve new volunteers and set their own rules and customs, something that has been very important to the project from the outset. Creative Spaces is about supporting people to live better in their own communities, fostering independence and promoting health and wellbeing.
Caring for carers
When a diagnosis of dementia is made we know that the effects are also felt with the partner, family member and circle of friends. We know that caring for someone with dementia can involve many challenges and at times feel quite isolating, in fact in a recent UK carers survey, 87% of participants stated that caring had a negative impact on their mental health with 91% stating that the biggest impact was anxiety or stress.
With this in mind, carers tell us how joining the activity groups helps them cope with issues such as social isolation, anxiety and poor sleeping patterns. The friendly and informal small group setting and an emphasis on nature and the outdoors are a great recipe for increasing feelings of wellness and reducing periods of anxiety.
Ann started coming to the group not long after her husband was diagnosed with vascular dementia. She was having trouble sleeping, anxious thoughts running through her head.
"during the course I learnt how to manage my anxiety and I also met many other people in a similar situation to me. I now have a new group of friends who I regularly meet up with."

Ann
If you are supporting someone with dementia or know someone who is you can find some free nature-based activities in our activities collection.

Observations in Nature
Observations in Nature is a photography and book-making project for people living with dementia and their carers. This arts-based project is based on a concept originally created by Ellie Robinson-Carter as part of her MA in Illustration in 2016. Ellie worked alongside one of our dementia walking groups to document their walks through photographs, due to the popularity of the project Observations in Nature was rolled out across the other dementia friendly walking and activity groups encouraging everyone to take part.
The success of the project is routed in its simplicity. Each group receives a disposable camera and decides a theme for that week. Cameras are passed around, conversation flows, and photographs are taken. People with dementia can enjoy being in the moment and focusing their attention on the view through a lens. The photographs are then displayed as part of an exhibition celebrating the group. Contact us to find out how Observations in Nature could be used with your group.
Image credit: Tom Johnson