Plants play different roles in a sensory garden. While they will usually be the stars of the show in providing sensory interest, they will also be responsible for functional things like shelter from cold winds, shady respite from summer sun and enclosure for a quiet space. They can also provide food and homes for wildlife and raw materials for indoor craft activities.
We have collected these ideas to help you plan the sorts of plants you need to create a comfortable space and to provide multi-sensory interest at all times of the year.
Plants to give shade
Look for options to make the most of existing shade from trees, pergolas and other structures. These can be good locations for seats and tables, providing space for people to relax and enjoy activities like seed sowing, while protected from strong sun.
Plant trees for the longer term, keeping in mind that they will take some years before they cast much shade. More immediate solutions include pergolas planted with climbers (e.g. Wisteria) and tunnels or structures made from wood or metal. There are lots of affordable options now available. Aim for creating dappled rather than heavy shade (which can be oppressive).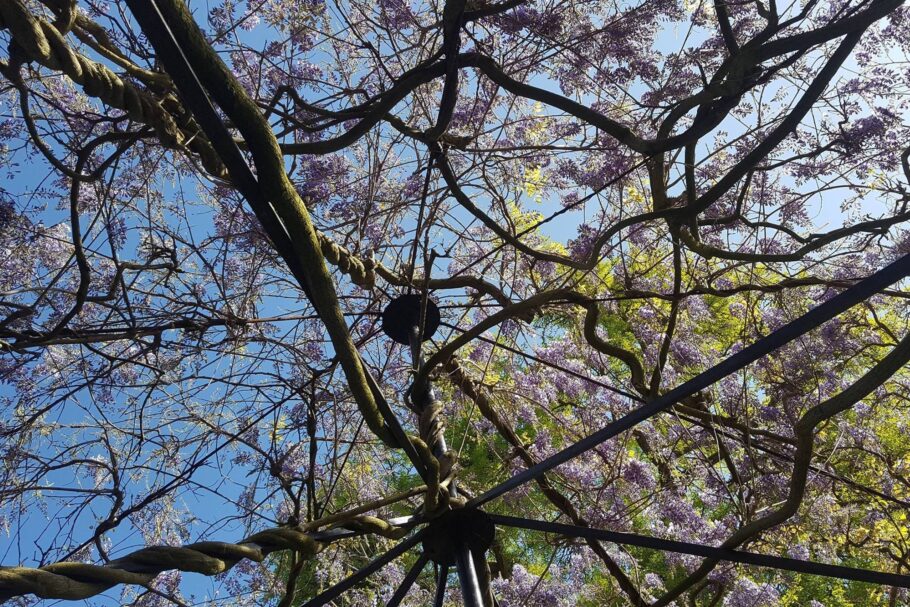 Plants for shelter
Shelter from winds can be achieved by planting shrubs or trees, or a mix of both. A trellis planted with climbers is another option. The ideal set up is a windbreak that is porous rather than solid so the wind is slowed down rather than deflected over and around which produces gusts on the leeward side.
Choose plants that are long-lived and don't need regular maintenance. Including some evergreens will provide shelter through the winter. Include plants that serve other uses too. For example, holly that can be cut for Christmas foliage and elderberry to give flowers and berries for making cordials.
Seasonal interest
It is important to plan for sensory interest through the year, rather than everything happening in a limited timeframe. With care, there is plenty of interest that can be included for the winter months.
When is your garden going to be used? Is it all year round or are there periods when it won't be used much or at all? Make sure you plan your plantings so they give you the displays you want at the times when you most need them. It's a good idea to make a calendar showing what plants will be in display in each month through the year so you can make sure it's a good fit with how your garden is planned to be used. This can be a great group activity in the planning stage, getting people marking or sticking pictures of the plants for the different months.
You can add more layers of seasonal interest by adding bulbs and annuals to give you displays at times when other plants aren't doing so much. If you have time you can get people growing bulbs themselves for planting in the garden.
Early signs of spring are welcomed by most people, but particularly those who find it difficult to go out much in the winter. Snowdrops, early daffodils and Hellebores are good examples of flowers that come out early.
Familiarity and memory
Plants, especially flowers, are great for triggering memories. This can be especially rewarding for older care home residents, where popular favourites can bring a sense of the domestic garden. Familiar plants can have powerful associations for people living with dementia and memory loss. If possible, involve people in collecting memories and stories so you know what plants you need, for example by making collages of pictures of flowers and plants.
In a garden it can be as simple as including some containers of annual flowers that are old favourites e.g. marigolds, forget-me-nots, pansies and snapdragons. Try letting the grass grow longer between cuts so the daisies can flower and have a tub or two for planting a favourite vegetables e.g. potatoes, runner beans or growing some fresh mint for making tea.
Designs can also include features intended to bring back memories. For example, an old garden shed with tools, a border of old-fashioned scented pinks and old clay pots.
For more ideas, read how about our Creative Spaces project which has been using gardens and plants to engage older people living with dementia.
Plants for celebration
Do you have celebrations that your gardens can add to? Maybe growing pumpkins for Halloween, holly and other evergreens for Christmas, vegetables and fruits for a school festival, daffodils for spring. Do you have room to plant a tree, maybe in a container that can serve as a Christmas tree? Ideally, include an outdoor socket nearby so people can decorate and add lights.
Plants to attract wildlife
An internet search will reveal plenty of lists of flowers that attract butterflies and bees, for example ice plant (Sedum spectabile), buddleia and comfrey. Plant these near windows if you want them to be seen from indoors. Including food plants for caterpillars can be a good addition in a garden with a learning focus.
Plants can be included to attract birds, along with bird feeders to encourage their regular visits. Bird boxes and bug hotels are good ways of making the garden more wildlife-friendly and can be good making opportunities too.
Plants to avoid
As the point of a sensory garden it to encourage people to actively touch and explore plants we recommend avoiding ones that are toxic or likely to cause skin reactions or injury.
Is it poisonous? The Horticultural Trades Association list of potentially harmful plants puts plants in three categories, from A to C. The highest risk plants are in A and B, though you may decide to exclude all categories depending on intended users and the likelihood of them eating plant material or having particular skin sensitivities.
Is it thorny or spiny? Plants that are moderately prickly, like holly, can add nice sensory variety, but we advise avoiding using ones with more serious thorns, like pyracantha and some roses unless you put them out of reach.
Another scented plant? Scents are important but a scent overload is unappealing. To avoid this, spread scents through the year and avoid too many 'heady' scents.
Is it too labour intensive? There is often scope for some plants that require more work, such as bedding plants, but most projects don't have budgets for a lot of regular maintenance. So mostly plants will need to be low maintenance i.e. they live a long time, don't need staking or dead-heading, and are not prone to disease.