Is access the forgotten victim of Coronavirus?
Article by Claire Francis and Katie Jennings
Whilst the world focuses on sanitisation and social distancing, we can't help but notice that access has taken a back seat.
From the tight one-way systems in the local shop to the removed seating in venues and public spaces it's high time that we rethink how access and safety can co-exist. Coronavirus seemingly came out of nowhere leaving venues with little time to adjust and amend to become safe, but it seems like these measures have come at the expense of essential access provisions.

Safety measures have wide reaching effects
One-way entry and exit systems are great for keeping people apart but for many people this now involves additional distances to walk or wheelchair through. Masks are an everyday essential in the pandemic world but what about those who rely on lip reading or facial expressions to understand what someone is saying. Have you noticed the narrowed tills at some major supermarkets? A squeeze to get a buggy through but impossible if you are in a mobility scooter, wide wheelchair or double buggy.
People are no longer encouraged to sit and linger in outdoor spaces; we are encouraged to keep moving and not gather. Great for the very fit and healthy, difficult for anyone else.

Pandemic aggravates existing difficulties

Increasingly, a cohort of people already marginalised by this virus due to their vulnerable status find themselves further disadvantaged when they do leave the house. A study by Abigail L. Cochran, looked at San Francisco Bay Area residents with disabilities, between March 20 and April 6, 2020, immediately following adoption of the first shelter-in-place orders in the region. Findings included:
"the pandemic is aggravating many difficulties accessing transportation and other essentials that people with disabilities regularly encounter. These include challenges accessing reliable and safe transportation as well as up-to-date communications about transportation and public health, and difficulties getting needed assistance using transportation and completing activities of daily living ranging from personal care to getting groceries."

Impacts of COVID-19 on access to transportation for people with disabilities. Transportation Research Interdisciplinary Perspectives, Volume 8, 2020.
Greater emphasis on the benefits of being outdoors

There are some positives, however. We have seen an increased emphasis on the importance of outdoor spaces, something we at Sensory Trust have been advocating for over 20 years. We know that children learn better when they learn through all their senses and nature and the outdoors provides the perfect setting.
In our dementia friendly support groups, members have had the chance to bring nature inside through activity packs, sent to them over lockdown as an engagement to their garden, greenspace, or window view. Making the outdoors accessible to those who may not feel able to go outside, through visualisation tasks and awareness of the outdoors has proven a possible task.
Cities need to adapt
Focusing on the bigger picture, cities also need to become more accessible and start embracing nature more. At a recent lecture given by Helle Søholt, for Cornwall Architectural Trust, Helle talked of soft cities and how greenspace needs to act as the 'connective tissue' amongst the hard and often restrictive city landscape. This Soft City principle was distilled down into three main points:
Allowing for partial or open socialisation, giving people the choice of how public or private they wish to be, e.g. creating common outdoor space in the middle of a housing block.
Making walking a priority! Streets must be a safer and a more accessible experience for all.
Blur the line between indoor and outdoor – flexible building 'edges' with adaptable windows and doors, to help invite indoor activities out and outdoor activities in.
Soholt, H 2020. Gehl Architecture (Cornwall Architectural Trust Autumn Lecture)
Moving forward
In a recent project by Studio Weave in Barbican London, city benches have been replaced with new furniture including tables, stools and planters (see sketches below). Could this perhaps be a better way to adapt outdoor seating to adhere to social distance rules as opposed to police-tape or full removal of public benches?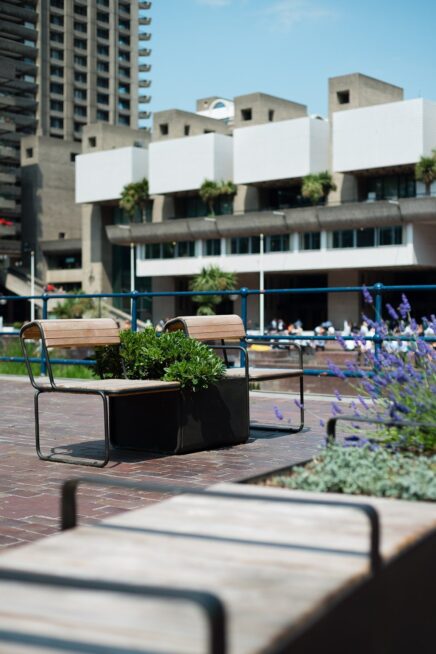 Outdoor spaces now more than ever need to be accessible to all. Fresh air and nature have become our tonic and we need to ensure that everyone can benefit. The way we interact and enjoy nature can be defined by design and the way all people move and respond to spaces and places.